Lazada Online Revolution 2016 Kicks Off Next Week with up to 95% Discount
Are you one of those online shoppers who are on the look for great discounts, sales and deals? Is your Christmas shopping list for gifts to friends and families now ready? Then be prepared for this year's biggest online sale on Lazada Philippines website. Why?
Lazada Online Revolution Sale
is happening again this 2016 where discounts on most brands and items we know are going as high as 95%.
For those who are not aware, Online Revolution is the biggest online shopping sale in Southeast Asia. It is a month-long celebration of the craziest deals available and it kicks off on November 11 and lasts until December 12.
And while is takes place for one month, the biggest days are on November 11 and December 12 and these are the days you should be making the purchase or visit Lazada website to hunt for the best deals and get your favorite items at the best prices possible. If you now go to Lazada Philippines Online Revolution page, you will see which particular deals to be offered for the whole duration of the sale. For example, from November 1-10 would be Early Deals from different brands, of course Nov 11 is the mega day, Nov 14-19 are going to be for beauty products, Pinoy Cyber Sale between Nov 25 and 28 and many others. Check out what exactly is going on right now on this page by clicking the image below.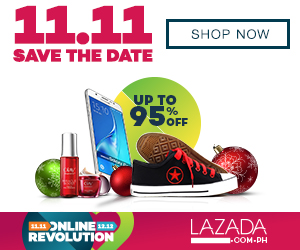 Apart from the Lazada website, they are also running and offering exclusive discounts and deals through the Lazada mobile app both for iOS and Android users. So if you want to check that out as well, make sure you download the Lazada app from the App Store and Google Play.
Is payment to your items online still a concern for you? Don't worry, Lazada Philippines has a number of options for you ensure effortless shopping on their online shop. Below is the list of payment methods available on Lazada.
Cash on Delivery
Credit/Debit Card (Mastercard, AMEX, Visa, and JCB)
BDO Installment
Megalink
Bancnet
Philippine-Paypal accounts
helloPay
To learn more about these payment options as well as on shipping and delivery, you can check out
this link
.
Haven't purchased from Lazada yet but been wanting to try? Here's an intro-offer for you. Get 10% off on your first purchase using the voucher code below.
Keep coming back on my blog in as I will be making more post about deals, discounts and promotion straight from this year's Lazada Online Revolution Sale.